The following video is an inspirational message from Antonio Martorell addressing the students in our ceramics class. Antonio Martorell is a member of the Board of Directors of Taller Guaguarey. Due to Cov-19, this course was offered online, via Zoom. Although the logistics had to be changed, it was a great success and the students were satisfied. Beautiful pieces were born during this dynamic period. This inspirational recording was a gift to the students in honor of their hard work. I was joyful to see their expressions as Antonio Martorell, Puerto Rico's prominent artist spoke to them via the video. He pointed out that working with clay is a form of rescuing the oldest artistic tradition in the country, practiced by our Taino Indians. Enjoy!
If you're having trouble viewing the video above, you can watch it here.
Antonio Martorell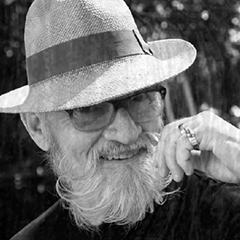 Antonio Martorell was born in Santurce, Puerto Rico and lives and works in La Playa de Ponce. He has been artist-in-residence for more than 33 years at the University of Puerto Rico in Cayey. He is known for his paintings, drawings, installation and performance art, graphics, set and costume design, theatre, films, TV, radio and writing for the press. He has published three books, and has exhibited widely in Latin America, the Caribbean, the United States, Canada and Europe. Martorell has participated in collective shows in Europe, Africa and Asia and has been awarded prizes at biennials in Italy, Germany, United States, Dominican Republic and Puerto Rico. His work was included in the 1997 Whitney Biennial of the Whitney Museum of American Art.
In 2007, Martorell was selected as the Wilbur Marvin Visiting Fellow at the David Rockefeller Center for Latin American Studies at Harvard University for the winter semester 2008. In 2012, he was selected artist-in-residence at Northwestern University in Chicago for the spring quarter.
Martorell´s artwork is found in the collections of the Whitney Museum, Museum of Modern Art and El Museo del Barrio in New York, University of Wisconsin at Milwaukee Museum, RADO Museum of Art in Switzerland, Museu do Douro in Portugal, Library of Congress, Washington, D.C., Princeton University Library, Museo de Arte Moderno in Mexico, Casa Las Américas in Cuba, Galería de Arte Moderno in Santo Domingo, Galería Nacional in San Salvador, Museo de Bellas Artes in Caracas, Harvard University Fogg Museum, Museo de Arte de Ponce in Ponce, Instituto de Cultura Puertorriqueña in San Juan, among others.
In 1997, he was granted an honorary doctorate degree from University of Turabo in Gurabo, Puerto Rico. In 2006, he received an honorary doctorate degree from the University of Puerto Rico in Cayey. In 2009, Martorell was granted an honorary doctorate degree from the Facultad de Artes Plásticas del Instituto Superior de Arte in la Habana, Cuba.