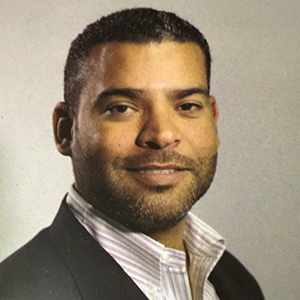 Joel I. González-Aponte, CPA
Joel I. González Aponte graduated Magna Cum Laude from the University of Puerto Rico and became a licensed Certified Public Accountant (CPA) in 2005. Since 2014, he has been a sole proprietor Certified Public Accountant and his CPA practice has served over 100 clients in a variety of industries.
He has prepared tax returns for individuals, partnerships, trusts, corporations and non-profit organizations. He has advised clients on major business decisions and governmental audits.
When needed, he has provided services pro bono for those unable to afford them.
Statement: I support the project because it can be a great tool for the participants' development in different facets of their lives. Most importantly, because participants of Taller Guaguarey are given an opportunity to transform their lives through art.
Carlos Quiles
Carlos Quiles was born in Comerío, Puerto Rico and resides in Cayey. He holds a Master of Arts degree in Puerto Rican and Caribbean Literature from the Centro de Estudios Avanzados de Puerto Rico y el Caribe in San Juan. He has taught Spanish to high school students in Puerto Rico and at public high schools in New York, Massachusetts and Chicago. He has also worked as a Spanish professor at several universities in Puerto Rico.
The following is a selection of his publications: Con el filo de mi alma (poetry, 1980), Que no nos encierren el amor (poetry, 1990), Un día a la vez (poetry, 2003), Memorias de Josefina (memoirs, 2005), Sonetos de tu ausencia (poetry, 2006), Pupa, mujer en lucha (memoirs, 2007), Un boricua en la luna: Juan Antonio Corretjer en la comunidad puertorriqueña de Chicago (essay, 2007), Juan Antonio Corretjer: Centenario (poetry, 2009), ¿Quién mató a Pinto Gandía? (novel, 2011), Gracias por la ternura (poetry, 2014), Esencias (poetry, 2016), Crucita, la entrañable amiga de Muñoz (novel, 2018).
Statement: I support Taller Guaguarey because it is a space where you find essential elements for life: connection with the earth, peace, solidarity, family, love, freedom and a possible means to generate income.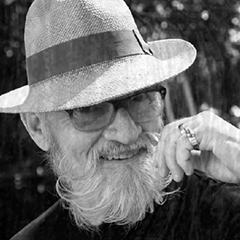 Antonio Martorell
Antonio Martorell was born in Santurce, Puerto Rico and lives and works in La Playa de Ponce. He has been artist-in-residence for more than 33 years at the University of Puerto Rico in Cayey. He is known for his paintings, drawings, installation and performance art, graphics, set and costume design, theatre, films, TV, radio and writing for the press. He has published three books, and has exhibited widely in Latin America, the Caribbean, the United States, Canada and Europe. Martorell has participated in collective shows in Europe, Africa and Asia and has been awarded prizes at biennials in Italy, Germany, United States, Dominican Republic and Puerto Rico. His work was included in the 1997 Whitney Biennial of the Whitney Museum of American Art.
In 2007, Martorell was selected as the Wilbur Marvin Visiting Fellow at the David Rockefeller Center for Latin American Studies at Harvard University for the winter semester 2008. In 2012, he was selected artist-in-residence at Northwestern University in Chicago for the spring quarter.
Martorell´s artwork is found in the collections of the Whitney Museum, Museum of Modern Art and El Museo del Barrio in New York, University of Wisconsin at Milwaukee Museum, RADO Museum of Art in Switzerland, Museu do Douro in Portugal, Library of Congress, Washington, D.C., Princeton University Library, Museo de Arte Moderno in Mexico, Casa Las Américas in Cuba, Galería de Arte Moderno in Santo Domingo, Galería Nacional in San Salvador, Museo de Bellas Artes in Caracas, Harvard University Fogg Museum, Museo de Arte de Ponce in Ponce, Instituto de Cultura Puertorriqueña in San Juan, among others.
In 1997, he was granted an honorary doctorate degree from University of Turabo in Gurabo, Puerto Rico. In 2006, he received an honorary doctorate degree from the University of Puerto Rico in Cayey. In 2009, Martorell was granted an honorary doctorate degree from the Facultad de Artes Plásticas del Instituto Superior de Arte in la Habana, Cuba.
Statement: Thank you for your invitation to become a member of the Board of Advisors for Taller Guaguarey. I gladly accept the opportunity to collaborate in a community enterprise which fulfills both artistic, social and spiritual functions. During this dark time of confusion, it is just the kind of activity that our people need to illuminate our path. Count me in.
Marilú Carrasquillo
Marilú Carrasquillo Ramírez was born in Caguas, Puerto Rico. She holds a Bachelor of Arts degree in Sociology from the University of Puerto Rico. She completed postgraduate studies at the Universidad Nacional Autónoma in México. Afterwards, while still in Mexico, she studied popular Mexican art at the Instituto Nacional Indigenista.
She has vast experience collaborating with Puerto Rican cultural institutions. She worked as a researcher and assistant to the director of the Instituto de Cultura Puertorriqueña, as Dean of Administration at the Centro de Estudios Avanzados de Puerto Rico y el Caribe, and as director of the Departamento de Desarrollo Cultural in Caguas, Puerto Rico. She is now director of the prestigious Liga de Estudiantes de Arte of San Juan.
She was a member of the Board of Directors of Casa Cortés Foundation and belongs to the Government Board of the Theater of the University of Puerto Rico. In 2011, she received the Medal of Culture awarded by the Ricardo Alegría Foundation.
Statement: It is a great honor to be a member of the Board of Advisors for Taller Guaguarey. I firmly believe in the enriching and healing value of art in its different disciplines, and in the importance of teaching the arts to our children and youth.
I am convinced that Taller Guaguarey will be an excellent gift for our youth by guiding them not only in the development of their artistic and technical faculties, but also in the cultivation of their sensitivity and love for our land. All this, guided by an extraordinary Puerto Rican woman, Alicia Rodríguez, symbol of the best of our nation.
Silma Quiñones, Ph.D.
Silma Quiñones, Ph.D. is a counseling psychologist with over 35 years of experience. She started her career in psychology as program director of La Posada, an acute residential treatment program in San Francisco, California. She later worked in First Hospital Panamericano, a psychiatric hospital in Puerto Rico as the psychologist in the adult ward. Her book: How to live with a psychiatric patient is based on these experiences, and is a practical guide for family members. As the vice-president of Compcare Managed Care in Puerto Rico she oversaw the mental health services provided through the health reform program to psychiatric patients in almost half of the Island in 22 clinics. She spearheaded a campaign to include family members in supportive and educational experiences sponsored by pharmaceutical companies. It started with two mega events focused on depression in 1996 and 1997 in which over 7,000 patients and family members participated.
As a counseling psychologist she maintained a very successful private practice for over 15 years, dedicated to working with couples and adults.
She has published several books based on her experience; amongst them: Alerta Roja, a guide for identifying dangerous relationships, and GPS del Amor, a guide for evaluating dating experiences. In the local media she is well known and recognized. She has over 25 years of experience participating in radio and television as a frequent guest speaker and with her own television and radio programs. She has been a keynote speaker in educational forums as well as private, commercial ones. As a communicator, her mission has been to promote psychological health and wellbeing.
Since 2003, she has been a core faculty of the University of Turabo, and since 2010 she is the program coordinator for the Doctoral Program in Counseling Psychology. Dr. Quiñones has specialized in diversity, marital and group counseling courses. She has worked closely with the Psychology Association of Puerto Rico and was elected President for 2019.
Statement: Thank you for your invitation to become a member of the Board of Advisors for Taller Guaguarey. I congratulate you on this initiative, which I know will be a great success. Psychological counseling promotes healthy lifestyles and activities that support mental health and personal growth. I am convinced that working with clay contributes in a meaningful way to well-being, self-esteem and a connection to our spiritual and psychological essence. It is an honor to be a part of Taller Guaguarey as a member of the Board of Advisors. I know it will be a great experience.